HOW TO MEASURE
1. We have a chain length designated to each design based on how we think it should fall. Choose the necklace that you want to order and check the size of the chain in the description. 
2. To understand how the necklace will look on you we suggest to use a piece of string. Lay the string on the ruler to measure the length and check this length on yourself.
We understand different preferences. That is why we have a 3" extender chain on most of our pieces. If this isn't enough, please write a "Note" in the order form with special requests. We will honor, within reason.
Necklace Size Chart
Women's Necklace Size Chart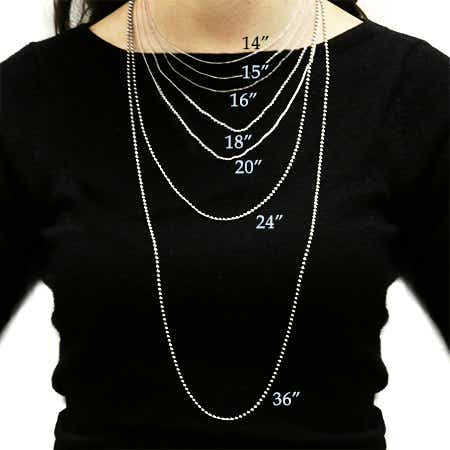 The right necklace lengths vary from person to person. Standard women's necklace lengths are 16 to 20 inches, but different chain lengths are appropriate for different styles and outfits.
16":
A 16" necklace hits just above the collarbone and fits like a choker. This is the ideal length for petite frames and is one of the most common women's necklace lengths.
18":
An 18" necklace falls right about at the collarbone and is the most popular chain length among women.
20":
A 20" necklace falls a few inches below the collarbone, perfect for women who want some breathing room with their chain. This length chain works best with a higher neckline.
24":
A 24" chain falls below the neckline.
36":
A 36" necklace hangs below the bust and is typically reserved for long, beaded necklaces such as pearl necklaces. They are often wrapped around twice to form double strand necklaces.
Men's Necklace Size Chart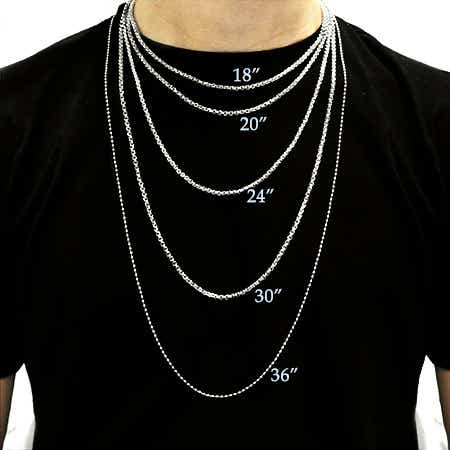 18":
An 18" men's chain hits at the base of the neck and is best for young men and men with smaller neck sizes.
20":
A 20" chain is the most common length for men, falling at the collarbone. This is a good length for a men's chain with a pendant, as the pendant will not sit too high or fall too low.
24":
A 24" chain falls just above the sternum.
30":
A 30" chain falls mid-chest and is typically used for plain chains without pendants.
36":
A 36" chain is extra long and falls below the chest.